The UW Tacoma Honors Executive Committee (HEC) is the designee of the representative Global Honors Faculty Council to collaborate with the Global Honors Executive Director in the development and oversight of Major Honors and Major Integrated Honors pathways.
The HEC meets on a monthly basis. Dates for 2018-2019 are as follows:
January 30
February 28
March 20
April 23
May 22
HEC members include:
Divya McMillin, PhD
Executive Director, Global Honors & Institute for Global Engagement
Professor of Global Media Studies, Interdisciplinary Arts & Sciences
Dr. Divya McMillin is winner of the 2012 Distinguished Reseach and 2017 Distinguished Teaching Awards, the highest recognitions of scholarship and teaching offered to faculty at the University of Washington Tacoma. She is Professor of Global Media Studies and teaches courses on Asian film, non-western television audiences, critical research methods, and media globalization. As Executive Director of the Global Honors Program, McMillin teaches Honors orientation and capstone courses, working closely with students to develop excellence in undergraduate research. Under her leadership, the Global Honors Program has more than doubled its graduates, secured a Global Scholar merit award for each student, and developed fully-funded international research opportunities for undergraduates.
Ji-Hyun Ahn, PhD
Assistant Professor of Global Media Studies, Interdisciplinary Arts & Sciences
Dr. Ji-Hyun Ahn was born and raised in Seoul, South Korea until she started her doctoral studies in the US in 2008. She received a BA degree in English Literature from Sogang University in 2005 (Summa Cum Laude). She received an MA degree in Visual Communication from the Graduate School of Communication & Arts in Yonsei University in 2007 and PhD in Media Studies in the Department of Radio-Television-Film at The University of Texas at Austin in 2013. She joined the School of Interdisciplinary Arts & Sciences at the University of Washington Tacoma as an Assistant Professor in September 2013. At UW Tacoma, she teaches courses on media globalization and inter-Asian media/cultural studies.
Dr. Ahn's primary research topic focuses on racial reconfiguration in East Asia as influenced by the massive flow of global migration today and the spectacularization of racial bodies on the screen in contemporary South Korean television. Considering race as a fundamental principle shaping global social order, her aim is to theoretically understand the complex nature of current racial globalization coupled with the transnational circulation of media and cultural texts in East Asia.
Joanne Clarke Dillman, PhD
Faculty Coordinator, Global Honors & Institute for Global Engagement
Senior Lecturer in Culture, Arts and Communication, Interdisciplinary Arts & Sciences
Dr. Joanne Clarke Dillman teaches a variety of film classes, from Introduction to Film Studies, to Feminist Perspectives, Media Genres and Film Theory and Aesthetics, among others. She also teaches an Introduction to Screenwriting class. She has taught in both the Core Program and continues to teach in Global Honors. Her focus and home program is in Arts, Media, and Culture. Dr. Clarke Dillman's degrees include a bachelors from Brown University, MFA in Film from Columbia University, and PhD from George Mason University, with areas of specialization in Visual Culture and Feminist Media Studies. Joanne's PhD's work is on the intersection of issues of gender, class and power in American visual culture, with an emphasis on film. Her book, "Women and Death in Film, Television and News: Dead But Not Gone," was published in November, 2014.
As the Global Honors Faculty Coordinator, Joanne supports the Executive Director, faculty, staff, and students in the development and execution of several Program initiatives, including Integrated Global Honors and the annual Global Engagement Conference.
Jeff Cohen, PhD
Executive Director, UW Tacoma Office of Global Affairs
Associate Professor, Social Work & Criminal Justice
Dr. Jeff Cohen joined the Social Work and Criminal Justice Program faculty in 2012, earning tenure and promotion to Associate Professor in 2017. He currently serves as the Executive Director of UW Tacoma's Office of Global Affairs, which includes International Student and Scholar Services, Fellowships and Awards, and Study Abroad. He has taught across the criminal justice curriculum and in the Global Honors and Core programs. His scholarship focuses on the intersections of gender, masculinities and crime, multi-perspective, mixed-methods research and the criminalization of school bullying. He is currently co-editing a 10-book series, under contract with University of California Press, applying criminological theory to relevant topics in the field.
Lynn Hermanson, MEd
Assistant Director, Global Honors & Institute for Global Engagement
Lynn Hermanson is Assistant Director of the Institute for Global Engagement and Global Honors Program, serving as principle program operations administrator, admissions advisor and student counselor. Her work includes management of program budgets, publicity, building relationships with campus and community partners, and event management.
Christine Stevens, PhD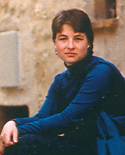 Associate Professor, Nursing and Healthcare Leadership
Dr. Christine Stevens is an associate professor in the UW Tacoma Nursing and Healthcare programs. She received her Doctor of Philosophy in Nursing Science from the University of Washington. Her research focuses on social justice and how structural disadvantages affect health especially in low-income residents and adolescent populations focusing on housing and food insecurity.  Dr. Stevens uses participatory research to develop long-term relationships with communities and partners with residents to develop interventions that are relevant at the local level.
Her teaching focuses on the social determinants of health, using social marketing to address social justice in communities, exploring how popular film and media construct our view of adolescents especially in terms of race, class, and gender. She was given the UWT Distinguished Teaching award in 2012 and featured in the Provost 2014 series of Innovators among us: Using technology to engage students.