Transportation Services staff are working onsite on Mondays and Wednesdays from 10:00 a.m. to 2:00 p.m.
Staff can also be contacted by email at transit@uw.edu or by calling 253-692-5926.
We are now located in MDS 113.
As UW Tacoma is an urban campus, parking can sometimes be a challenge. There are a number of paid parking options on or near campus, but free street parking can be hard to find. You can use this site to explore your options and keep up on the latest parking news.
Parking News and Reminders
Student Winter Quarter 2020 Permits Go on Sale December 4th at 9am.
Winter Quarter 2020 parking permits for all UW Tacoma and Community Partner lots will be available for purchase online starting at 9:00 a.m. Wednesday, December 4th at 9am.
Community Partner Parking Resources
UW Tacoma has partnered with Republic Parking and Diamond Parking Services to offer UW Tacoma customers parking permits at significantly discounted rates for the Autumn, Winter and Spring quarters.  Products offered include both restricted and unlimited parking options.
More information about Community Partner parking resources go to Diamond parking or Republic Parking NW.
Dead Battery?  Flat Tire?  Locked out?  Use the "We Care" Program!
The Diamond Parking We Care program is available to customers using any of the UW Tacoma parking lots. The We Care program offers customers help with dead batteries, flat tires, locked cars, and even cars out of gas.  Just call Bill's Towing at 253-272-9393 and identify yourself as a We Care customer.
The We Care program is NOT AVAILABLE currently in these Republic Parking lots: Vision Duece Lot, the Convention Center garage, or the Museum of Glass garage.
City of Tacoma On-Street Parking Changes - September 2019
The City of Tacoma's Parking Services wants to make it easier for those visiting the southern Downtown Tacoma area to find parking. Parking demands are highest in this area, particularly near the University of Washington Tacoma campus. Studies show a very high demand for parking near the University of Washington Tacoma Campus.
Parking Changes
Because of these parking demands, the City's Parking Technical Advisory Group (PTAG) has recommended the following changes:
Extend the 90-minute paid parking to two-hour paid parking along Jefferson Avenue from South 17th to South 21st streets.
Institute a three -hour unpaid zone from Tacoma Avenue South to Market Street from South 17th to South 21st streets. Stalls that are already regulated in this area are exempt from these changes.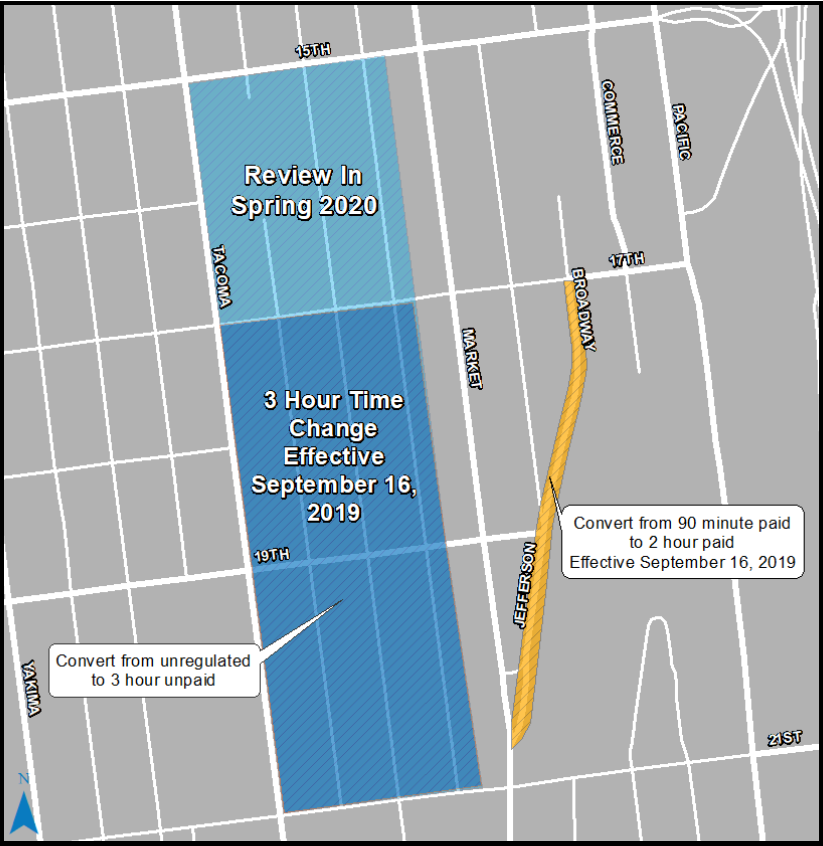 Parking Rate Adjustments Approved by the Board of Regents
To see a list of the new parking rates please visit Parking lots and rates.
UW Tacoma Parking Rate Increases coming July 1, 2019
UW Tacoma Transportation Services has been reviewing parking rates across the Tacoma campus.
The parking rates for the Tacoma campus were last updated 10 years ago. This has caused them to fall well below the market rate and not cover the operating and maintenance expenses of existing parking facilities.
Among the reasons for the rate increases are:
Funding for deferred maintenance of existing aging parking facilities
Allow Transportation Services to allot funding for capital costs of additional parking facilities
Software upgrades for better management of parking operations
Right size rates per facility to align correctly between historic and newer facilities
Allows UWT Transportation Services to subsidize and provide reduced permit rates at the Tacoma Dome, Lot A
Allows campus to maintain a lower cost UPASS rate
Off-Campus Parking Options
In addition to on-campus lots, there are additional pay-to-park lots across Pacific Avenue at the Washington State History Museum and Tacoma Art Museum and also north of 17th Street at the Tacoma Convention Center. Several of these offer discounted quarterly passes to UW Tacoma students.
Free parking is available at the Tacoma Dome Transit Station parking garage. The free Link light rail train runs from the garage to campus every 10 minutes. This garage often fills up early, so finding a space at mid-day may be difficult. Learn more about riding the Link to campus.